In response to race riots, BLM pressure, etc. my employer decided that MLK Day would be on our annual holiday list. A week ago I was excited to get this extended weekend. It hasn't been quite what I'd hoped for when I was reminded about the holiday last week.
Saturday my daughter and son-in-law took their second honeymoon to the Dominican Republic. When they got married in the early autumn, they took a brief honeymoon up in Freedom, NH with plans to take another in January as a break from New England Winter. I've been getting pictures and videos and it looks beautiful. I'm very happy that they get this break because their new business has kept them busy.
Meanwhile here in southern NH, Saturday and Sunday mornings we woke to temperatures near 0°F. On Saturday it barely broke into double digits. On Sunday at least it got into the mid 20's.
Sunday was weird because when I took my twins with me grocery shopping, there were a lot of supply shortages. After I dropped one son off at his work, I took the other to our local grocer's competition on the other side of town. They were able to supply most of what we needed, but I still could not find Distilled Water.
I buy a gallon every couple of weeks to use in my CPAP machine and was running low. We also tried the Rite Aid pharmacy next door, but still no luck. Distilled water was all out everywhere I'd tried. One salesperson mentioned it's also used in some humidifiers, so perhaps that's partly to blame.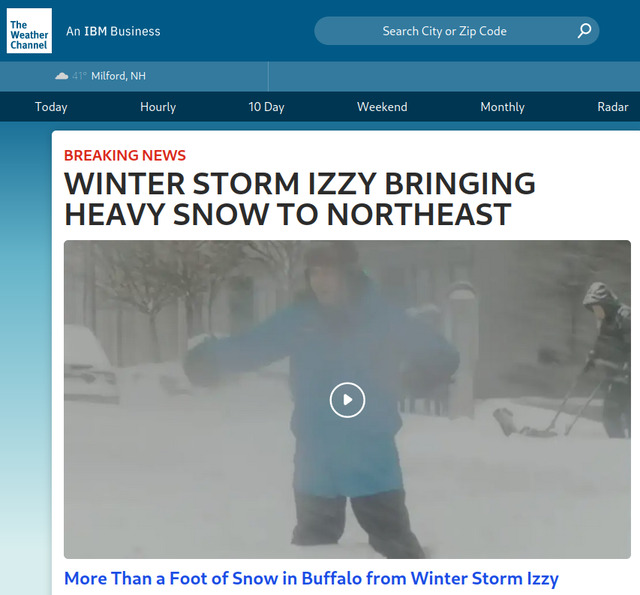 Weather.com this morning
When I looked at the forecast for overnight and into Monday, I saw we were supposed to get some significant snow but that it would shift to rain shortly after sunrise. That always makes a difficult mess if not handled promptly. I got up early and fired up the snowblower about half an hour before sunrise. Temps were hovering around the freezing point but rising. The snow was coming down quickly, but I knew: get out moved while it's still powder.
I came inside to shower up and sure enough, by the time I left the house again around 7:45, it was raining. Oddly enough our street had not been plowed all night long. That's a bit unusual for us. I'd hoped to grab a quick breakfast downtown, but there was no place to park yet. The snowplows were hard at work catching up, but at 8am, the Milford Oval was still only clear on the driving surfaces.
So I stopped by our local grocer again on my way back home. They'd re-stocked more supplies overnight and now at least had some distilled water. I also bought a couple of breakfast sandwiches so my son could enjoy a quick breakfast before I dropped him off at work. Normally I pull into the restaurant's driveway and drop him off at the their back door, but everything was still unplowed, so I had to drop him off at the curb.
Now it's very sunny and 41°F. "Go figya' !!" Well, at least I got to spend some time relaxing, enjoying a cheesy Hallmark movie, and doing some writing on my comfy Pinebook laptop.