More Writing
It's ten days into the New Year. It's been almost a month since I last wrote. With current tendencies of the billionaires in Big Tech, I may need to write here more often. Twitter, Facebook, YouTube, Amazon and others are suddenly ramping up their censorship.
Due to things at work and Tim's school, we both had two weeks off for Christmas break. I only had to use 6 Days Off, but was encouraged to do so as many of my peers wouldn't be online working anyway. Without issues to debug and few new tasks, it would be a waste to not enjoy the time to relax and catch up.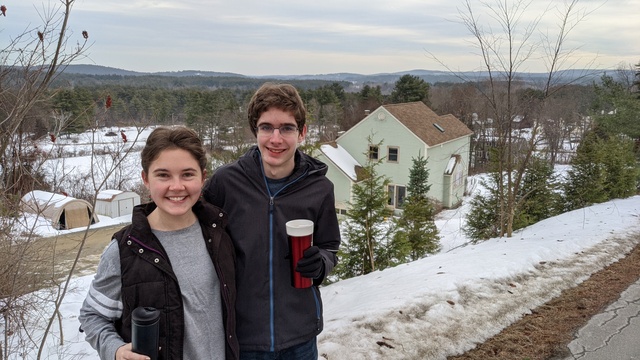 A Hike With Claire and Timothy shortly before Christmas
Rainy Christmas
Christmas Day was unseasonably warm … over 55°F and rainy. Even though the prior weekend we'd had a foot of snow, suddenly the lawn was green and roof clear. Normally New Hampshire has no problem having a white Christmas but suddenly it was gone. Any thoughts of lighting a nice fire in the main wood stove seemed silly.
We started by meeting in the morning at Claire's place. She had her tree up and we brought in presents. Joining us for the gathering were Sister Marcelle and Abby's fiance Ryan.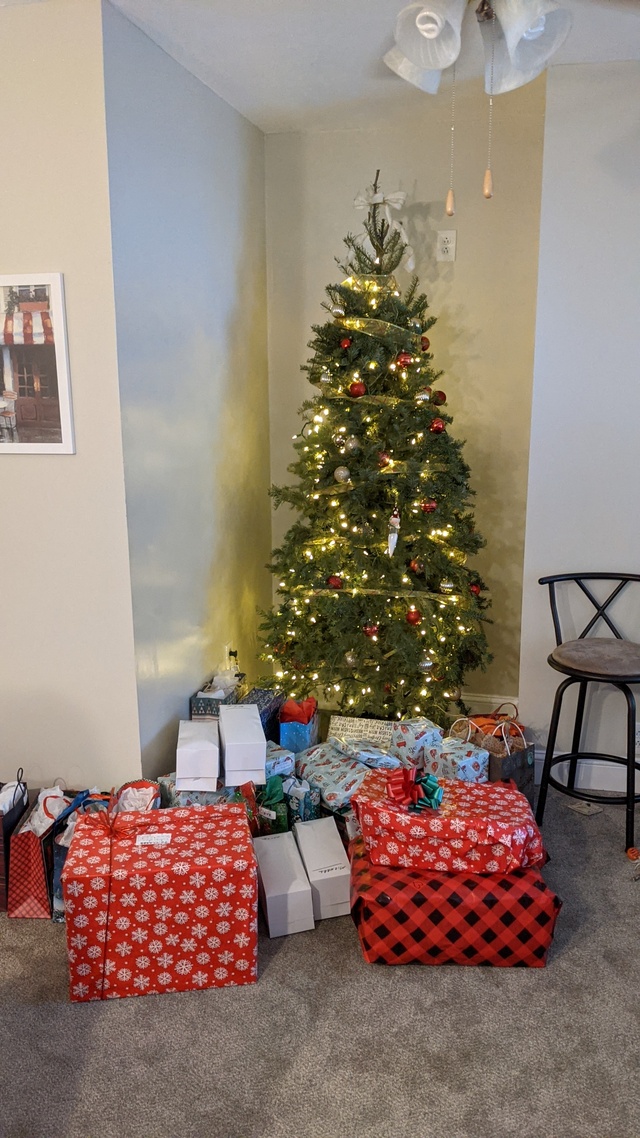 The Christmas Tree at Claire's Place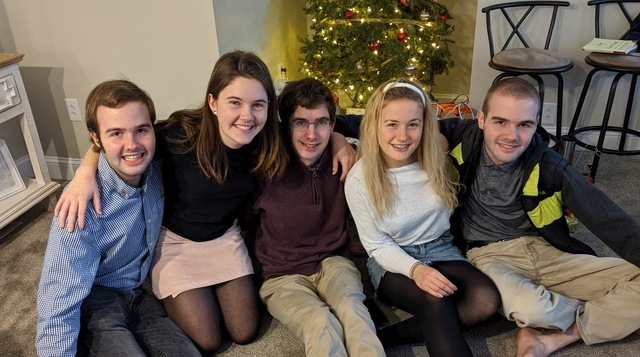 The Kids just before opening the gifts
After a few hours at Claire's we packed the vehicles and head to the house for a nice Christmas dinner. I helped where I could, but it was primarily in the hands of Claire, Abby, and Sister Marcelle.
New Years
New Years Eve was much quieter. The girls and their beaus spent their time together with some friends in Concord. I made a big pot of comfort food for dinner for the boys.
It helped that I got a catnap in while dinner was cooking. My eyes didn't get as heavy as last New Years Eve. I enjoyed two movies that night. My late mom used to be a big fan of the TV series "Monk" so I watched the pilot episode. It was almost as long as a movie. I could see why my mom enjoyed it. Later I watched an old comedy that my late wife Michelle used to enjoy: "Rockabye Baby". In it actor/comedian Jerry Lewis suddenly becomes the guardian of triplets babies. I suspect Michelle enjoyed the comedy of watching a man attempt to be Mr. Mom with an overwhelming number of babies.
Job Corps resuming
Michael and I were shocked last week to hear that he could go back onsite to Job Corps. C19 case rates in Massachusetts are skyrocketing and yet they are under federal pressure to re-open. Sadly this means that when I drop Michael off this week, there are several new restrictions. First I can't come in. I can only drop him off at the gate. Then he must remain in quarantine quarters for two weeks before he can freely move about the campus. Lastly no one can leave or enter the campus, so I can't bring him home for a weekend or take him out for dinner. Michael estimates that he's near the end of his program and it shouldn't be too much longer. I hope so.
Classics
I watched two classic movies from the mid-20'th century this weekend, both in Black 'n White. Last night I watched "Marty" (1955) with Ernest Borgnine. I found it a moving drama, especially at the beginning when Marty was being pressured to get married and he felt like he would likely remain a bachelor because he wasn't good looking, mid-30's, and a little overweight.
This morning Claire and Luke came by for breakfast. Afterwards the kids helped me take down the Christmas tree and clean up the pine needles that inevitably seem to go everywhere when doing so. I took the kids to Aroma Joes for drinks. Claire helped me assemble some new ergonomic snow shovels I'd ordered during the summer. She and I then relaxed with a classic 1947 "The Ghost and Mrs. Muir" with Gene Tierney and Rex Harrison. It was a recommendation from Luke's mom. While I did enjoy it, I dozed for about 15-20 minutes near the middle and had to rewatch that part after dinner tonight.
Early Birthday
Because Michael will be stuck in quarantine when the Twins turn 20, we had an early celebration last night. My girls and their boyfriends joined the boys and I at the local Thai restaurant for a big family dinner. Later we came back to the house to toast with some sparkling cider. I find it so sad that when he crosses the Two Decade mark, he'll be stuck in his room, more or less. I think (but am not certain) I had just come back from Vandenburg AFB for my Officer Training on my 20th. I was excited that soon I'd be back at college as an Upperclassman.
Timothy
Timothy's applications are in for all ten colleges that he intended to apply to. As of now four have gotten back to him. Thus far the merit scholarships have been pretty meager. Considering his grades at New Hampshire's top STEM school, his excellent SAT scores, his time at Wolfram, it's a little disappointing for both of us. Still there's more feedback in the pipeline coming in the next few months.