Christmas Prep
We're down to the last week before Christmas. Tomorrow at Mass we'll see them light the last candle on the Advent Wreath. I'm trying to do a reasonable job of keeping it a prep for the Nativity and not the arrival of Santa. I've been trying to keep going to weekday Mass, keeping up with regular Confession, etc. I've worked a bit this week on our Advent/Christmas presentation tomorrow for Family Faith Formation (what used to be CCD, but now involves the parents learning with their children). And yes, a few gifts here and there, and an unhealthy amount of Hallmark Christmas Movies, as is my vice.
Picked up Timothy
Wednesday my oldest daughter and I were a bit happy that her final patient of the day did a last minute appointment cancellation. It allowed her to drive down with me to Boston's Logan airport to pick up Timothy, her bookend sibling. I know he's 18, but this was his first solo flight and as his father, I was anxious most of the day. My worries were compounded by the fact that it's winter and that he had a connection in Minneapolis to get through. Luckily with today's tech I could track his flights online; he could send me regular progress on Signal; and he could track our driving progress to the airport via Google Maps. In the end he only waited about five minutes and walked out right as we pulled up.
We tried to get some dinner near the Massachusetts Burlington Mall on our drive back, but that took some doing. The Cheesecake Factory had a 45 minute wait. Johnny Rockets next door had closed already. The food court was mostly closed. All this at 8pm on a Wednesday! Finally we found out that there's another Pressed Cafe nearby and had a nice dinner there. My daughter, who came along to make sure I wasn't too tired for such a drive, fell asleep quickly on our drive between Burlington and Milford. Oh well, her heart was in the right place.
The next morning Tim helped me drop my car off to get its winter wheels swapped in, an oil change, and a transmission fluid change. Goodness, transmission fluid is expensive !! Afterwards we took the minivan out to Peterborough because he was craving a breakfast at Bagel Mill.
Hard to Get Everyone Together
I can relate in a small way to a struggle my Dad must go through: trying to see all of his kids at once is exceedingly rare. Each of his children lives in a different state. Friday night both of my daughters had plans. This morning Claire had work, but the rest of us met up at Flight Coffee for breakfast. Then this afternoon when Claire was free, Michael had to work. Not to mention that it's been snowing all afternoon and into tonight. I've got my fingers crossed that we can get a good turnout for tomorrow morning's Mass.
Geeky Recommendation of the Day
It's no secret that I've done computing for a long time, going back to 8bit systems of the early 80's to now writing on this cheap hexacore 64bit ARM laptop now. One of the weird hobbies obsessions I have is computing minimimalism. It's like the odd half-cousin of "retro-computing". We keep making more and more powerful systems, and yet computers don't tend to feel much faster because our programming becomes more bloated and graphical.
One example that made me wretch recently was learning that there's a terminal application called Tabby. All it does is give geeks like me a basic text/command line to work from, but it's written in a developer framework called Electron. Electron is basically like embedding a good chunk of a web browser into your app. It has the Pro of being very portable across a wide variety of systems like Macs, Windows PCs, Linux machines, even mobile. The Con is that it's almost as bloated as a browser! I double checked and my terminal is about 120 kilobytes. Tiny! It's just a command line terminal. It shouldn't be dozens of megabytes merely to type in some commands.
I've mentioned earlier that to avoid bloat on this low-spec laptop, I use the basic mpv video player rather than something full featured like kodi which tries to provide a very polished, graphical environment for enjoying multimedia content. Well I found yet another nerdy multimedia hack: ytfzf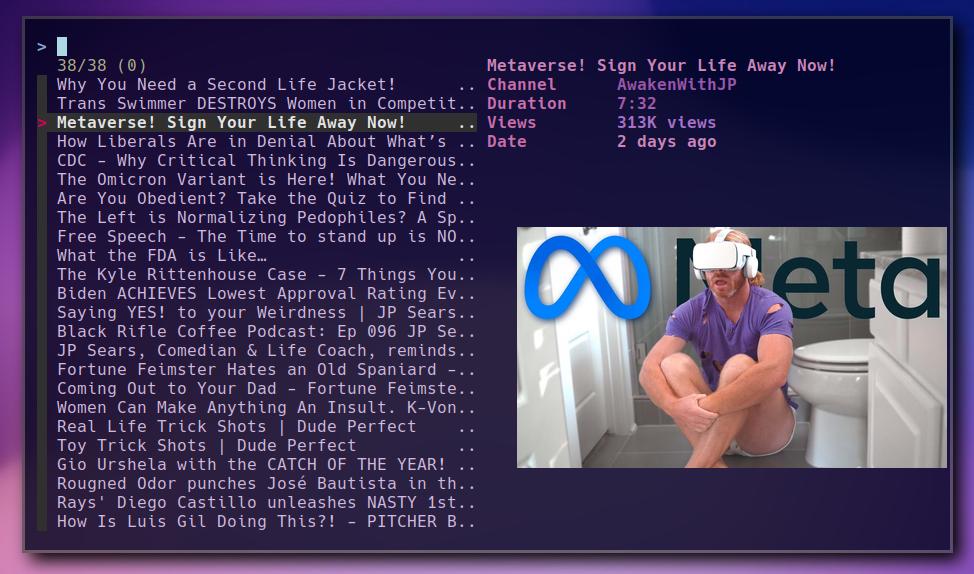 It has several modes of operation, but above I just typed ytfzf JP Sears and got a bunch of his most recent videos. You can put in just about any search term you want. It searches Youtube quickly and once you select something from its narrowed list, it'll play it in your favorite dedicated video player, like my beloved mpv video player.
Why bother when you could just open the YouTube webpage in your browser?? Well, you could, but the YouTube web page is pretty heavy, especially on low end hardware like this. And the web page is full of tracking, and ads, and CDC/Covid warnings, etc. With this I get results in about a second, with no cruft, and the selection loads quickly. Those thumbnail previews help give it just a touch of eye candy. And overall, it's just so retro-nerdy, I get a kick out of it. It almost has that look of old dial-up Bulletin Board Systems (BBS's).
So why is it called ytfzf? Who can remember a random name like that?! It stands for YouTube (yt) Fuzzy Finder (fzf). The Fuzzy Finder - fzf tool has been a popular trend lately among Linux nerds. Some upstream program gives it a big selection and it lets you type a few keystrokes to narrow down what you're looking for. It reminds me a bit of Spotlight on Macs or the new built-in search in Windows 10. fzf has that feel, but in a terminal/command line, for folks who aren't frightened by it. It may not be most folks Cup of Tea, but I love that Linux has just so many choices – from uber polished and modern interfaces to retro-nerdy, text-oriented interfaces of yesteryear.