Hiatus
It's been over a month since I last wrote. Initially I thought I'd wait until after the election, but as I feared, unsolicited mail in ballots (as opposed to absentee ballots), ballot harvesting, combined with a few other factors, have meant that – as in 2000 – the courts will likely be involved and things may take a while.
While decisions about the leadership may take a while, tomorrow we celebrate The Solemnity of Our Lord Jesus Christ, King of the Universe. Regardless of our local, state, and national leadership, ultimately we hope to serve Christ the King in our daily lives.
Visits
As I mentioned last time, Michelle's younger sister, Maria, enjoyed New Hampshire a bit before autumn peak. We did have some decent color about a week or so after she left, as seen below near Saint Patricks Church.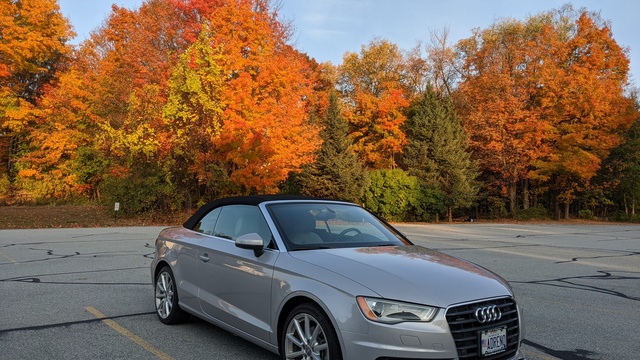 This was taken October 19th. On October 30th we had our first small snow. It was a bit of a fluke to be that early. Luckily it was only about two inches and quickly melted. No widespread power outages. It temporarily flattened the tall grasses at the street corners along my driveway, but they soon sprung back when some warmth and sunshine arrived just a few days later. Alas today my lawn guys came for the last time this year for Autumn Cleanup and those tall zebra grasses got their annual "buzz cut" before winter.

On Election Day my wife's other sister, Gina, flew out to spend almost a week with us. She enjoyed seeing the sights, seeing my kids, and seeing where my daughters live now in New Boston and Manchester. Near the end of the visit my dad arrived, so we had some nice overlap, including a big dinner on that weekend.
While my dad was here, I took Veteran's Day as my EDH (Employee Designated Holiday), as I do most every year at Qualcomm. Abby was available too, so the three of us visited Kittery and Portsmouth. Kittery Trading Post reminded me of a giant EMS store with all sorts of clothing, outdoor sporting equipment, and a decent selection of guns. We had trouble finding a place to eat in Kittery due to the holiday, so crossed the bridge back into New Hampshire and ate in historic Portsmouth.
Lifelong Learning
In the Sharpening the Saw domain I'm taking an online course discussing the new things in C++ 2017. The computer language C++ gets updates about every three years. C++ 2020 is official now too, but there are fewer resources available and I doubt I'll see a C++ 2020 compliant compiler at my work for several years. We're slow to update because it usually causes more pain than its worth.
At work I took an all day course to study the popular revision control system known as 'git'. Timothy has used it for years but I never had the reason. At work we use a system popular in large enterprise / corporate environments, but are starting to dabble in using 'git'. I've now started using 'git' on some personal project outside of work.
I'm also working through the book "Build Your Own Lisp". Subtitle: "Learn C and build your own programming language in 1000 lines of code!" I've been programming in C since the late 80's (so that's not new to me), but I was intrigued by the idea of using C to build a small interpreted computer language – in this case a small LISP interpreter. I have a special place in my nerdy heart for LISP, so the idea of building a small LISP from scratch intrigued me.
Lastly I've just about wrapped up development of a small (~45KBytes) Linux window manager I call KSWM – for Keyboard Snap Window Manager. Unlike Windows or MacOS, Linux has a wide variety of Desktop Environments (DE's) and Window Managers (WM's) available. Some consider it a weakness that there isn't a single Linux "Look and Feel", others consider it choice or freedom. Timothy and I have used a bunch of them and usually focus on the minimalist ones that are fast, lightweight, and usually better for "keyboard warriers" who don't want to "mouse around" too much setting up their windows on the screen(s).
Weekend
So about this weekend: yesterday my semi-annual property tax bill arrived. We had unseasonably nice weather and I needed a break from debugging, so I took my car, dropped the top, and drove into Town Hall to pay my bill. I don't think I'll have many such 'sun on my face, wind in my hair' opportunities left in 2020.
This morning I got my weekend chores done early. As I returned from weekly grocery shopping, the lawn guys were out in force in my yard preparing it for winter. The many leaves and pine needles of this past month are now tucked away into my conservation land. Claire and her beau came by and we went to the Merrimack Outlets. Funny that it's been 8 years since it opened and this was my first time really touring the stores there. I suspect that because Michelle's health was pretty serious when it opened, I wasn't interested in checking out yet another shopping center. Besides … Michelle hated shopping. On the way home we stopped for a fine dinner at Giorgios and brought some to-go lasagna home for Timothy. Timothy's school load is at full throttle since he'll soon have a holiday break.
After Claire left, Daniel and I watched Hallmark's Holly and Ivy. I'd read a review that said it was not your typical formulaic Hallmark Christmas movie and they were right. If there's one 2020 Hallmark Movie you watch this year, I recommend "Holly and Ivy". There's real friendships, some non-romantic love as well as romance, generous self giving and being able to accept help.