This time of year is always a good time for decompression. I don't have any more Family Faith Formation at the parish for a few months. We had a nice pot luck dinner and bonfire on Pentecost Eve. Soon thereafter was the extended Memorial Day weekend. Then come the surge of Bilik Birthdays: my late Mom, my Dad, me, my brother, and finally my two sisters. And today is Independence Day.
I took my birthday off from work and a lot of things serendipitously worked out that day. My replacement for my creaky old work-from-home desk chair arrived. Up-to-date copies of my overseas birth certificate arrived so that I can finally get a RealID compliant drivers license. My half-century old paperwork wouldn't meet the DMV's requirements. My Dad sent along three bags of roasted whole bean coffee from his favorite roaster in southern Michigan. And I finally got some responses from Lifespan Fitness, makers of the treadmill desk I bought several years ago. A little before Easter its control console went on the fritz and I've been trying to buy a replacement console for the desk. Walking while doing my initial work tasks is important for avoiding @$$bestos poisoning.
It's been about seven months now since the new roof went on. I'm finally adapting to having a green roof when I drive down the street and approach my house. Not as in solar but literally green. Green stainless steel. I sometimes wonder what Michelle would've thought of it. I'm 90% sure she wouldn't have liked the expense, but would she like the look? It reminds me of so many homes I'd see on my annual trip up to Weston, Vermont.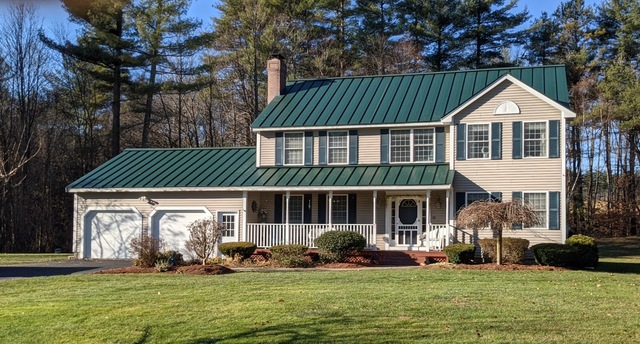 Hopefully in the next week or two, the next home upgrade will occur with both of my builder-grade, 25+ year old garage doors being replaced with new insulated metal doors. Glass embedded in the top panel, all the framing replaced, new belt driven motors, new track, and torsion springs replacing the extension springs. It should be quite the overhaul. Maybe the whole house doesn't need to resonate when the doors open and close.
The only other summer task besides work has been representing our parish at the Deanery-level "Synod on Synodality". What a mouthful of clerical terms! (A deanery is a subdivision of a Catholic Diocese) Lay representatives from several area parishes have been meeting weekly to discuss and give feedback up the hierarchy on different aspects of the state of things. I've had three so far, with two more to go.
Aside from that it's been a quiet summer. I'm excited seeing Abby in her third trimester. She and her husband just bought a third property and mostly moved into it this long weekend. Timothy and I got to spend a bit of time catching up with them after Mass this morning. Because I see her only about once a week, it's always startling to see the pregnancy progress. With all of the pregnancies of Michelle, I saw her every day and thus it just crept up on me in tiny increments. When I visit Abby these days it's always feels a bit like Ka-Pow! In this time when Marriage and Birth Rates are down, they are a wonderful Sign of Contradiction.